My boyfriend and I visited South Korea in September and one day we walked by a construction site that just amazed us:
There's a machine tearing down a whole building and what's insane is the man right next to the machine, with the hose and no safety gear at all! A whole building is being torn down right where he's standing and he's not protected at all, crazy!
Compare this to what we're seeing outside of our window in Stockholm: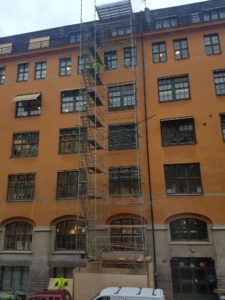 So here they have spent the last two days just building the scaffolding, with protective gear on and everything. They haven't even started doing the job yet, because they're taking so long on installing everything safely. (I wonder how many days it'll take before the job is done though? Go safety and all but if this was in Asia the job would be done already, haha! Maybe they're not all about safety in construction, but they are effective!)
Talk about big contrast!