I haven't updated this blog in a long while. I have been lacking inspiration and also the time since I am also writing another more personal blog in Swedish for close friends and family.
However, I have decided now to try to get better at updating this blog as well. It won't be as personal and contain as many details as my other blog, but it will be a place for me to just write down some of my thoughts and experiences, in English.
So who am I? Some information you can find in the "About Me"-section, but to summarize it I am a person who loves traveling, experiencing other cultures and languages. These interests of mine have taken me all over the world, not only as a tourist but I have also lived for longer periods abroad. My first long trip on my own was to Sydney, Australia, in 2007 when I was 18 years old. I went there to do an internship for a month and even though it was hard at first, being such a long way from home for the first time by myself, it was a wonderful experience and one that I grew from a lot as I got to be independent and stand on my own two legs.
In 2008 it was time for my next international adventure – I went to work as an Au Pair for one month in Brussels, Belgium, then nine months in Chalon-sur-Saône, France. This experience was a tough one, to move away from my home for a long period of time for the first time. The first two months were the hardest, but after you'd gotten used to everything and gotten to know people and the  place where you were staying, it turned into a great experience! I really recommend anyone wanting to live in another country, and get to know another culture, to do something like this. It really makes you grow up, mature, and become independent. Also, I got to develop my French which was also one of my goals with working as an Au Pair.
My next adventure brought me to Uppsala in Sweden. I moved there in August 2009 to study languages and linguistics at the university. I love Uppsala and have so many fond memories from this place, and it is a great city to be a student in.
In January 2014 it was time for another adventure. This time I went to Montreal, Canada, where I spent almost 5 months for an internship and to develop my English and French further. During this time, I experienced both tough times, being so far away from Sweden and not knowing anyone in the beginning, but also great times. After the first two months, I had settled in, found friends and really enjoyed my time in this amazing city. So much that I decided to move here in September 2014 (meeting my boyfriend during my internship played a part in this of course).
So since September 2014 up until recently, I have lived full-time in Montreal, Canada. I moved there not knowing how long I would stay and I ended up spending a total of 4,5 years in this amazing city and country. I love Montreal and Canada and am so grateful for the time I've spent there and all the experiences I've had. However, since I still have close friends and my family in Sweden, we decided to move to Stockholm, Sweden, this year.
I had the time and the opportunity to get another adventure in between my Canadian and Swedish adventure though – my boyfriend and I went backpacking through Canada (1 month) and Asia (2 months) during this summer. It was amazing and it's incredible to think of everything we've experienced. This definitely created memories for life.
Now it's time for another adventure, this time in Sweden! Even though it's where I'm from, I haven't lived here for many years and I've never lived in Stockholm, so it'll be a challenge but hopefully a great one. There's just so much to get in place when you move to another place, it's so tiring… Finding a place to stay, a job, getting to know new people and hopefully make friends, learning how to get around, finding fun stuff to do in your spare time etc. But we'll just have to give it time. In my experience, the first two months are the hardest, then it usually gets easier. So we'll see in two months then!
When I look at the different adventures I have experienced in the past 11 years, it amazes me. I am so happy and fortunate that I've gotten to experience all of this. Let's see if I'll manage to stay in Stockholm now for a longer period of time. You never know, we might decide to go somewhere else eventually, apparently it's difficult for me to stay in one place for too long, haha!
I'll try to write as much as I can here on this blog, if I think of something or experience something worth to write about (that's not way too personal). Now what I am doing most of the time is trying to find a job. There are some promising opportunities that might lead to something. I just have to be patient and wait. Fingers crossed!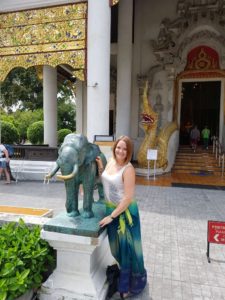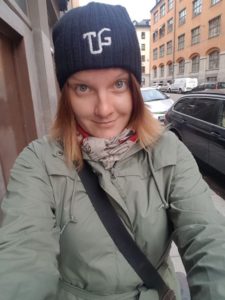 Then – Chiang Mai, Thailand, a month ago.
Now – Stockholm, 20 degrees colder…