Hi! A couple of weeks ago I was asked to put together a list of things to do and see in Paris, a city which I have visited 5 times and which I love. Since I've been here many times and have experienced and seen many things in this city, I thought it would be interesting for others if I shared some of my tips and advices, so here you go! :
The Eiffel Tower
You can take the métro to the station Trocadéro and from there you will get a great view of the Eiffel Tower! Then to get up the tower you can either take the stairs or the elevator. I recommend that you take the elevator up to the 3rd floor, it's amazing up there with a spectacular view over Paris!
Notre Dame
It's free to enter, and the cathedrale is beautiful! For me who's seen (and love) the Disney movie "The Hunchback of Notre Dame" this was absolutely amazing to see!
Le Louvre
The last time I was in Paris, we walked from Notre Dame, to the Louvre, and if you get the chance to enter the Louvre I would recommend that! You won't be able to see it all, because it's a very big museum, but I would say that you should visit the Louvre at least once when you're in Paris.
Jardin des Tuileries
From the Louvre you can walk through le Jardin des Tuileries (which is beautiful), then arrive at Place de la Concorde.
Place de la Concorde
At this public square (the largest one i Paris) you'll see a giant Egyptian obelisk 

decorated with 

hieroglyphics, which the Egyptian government gave to the French in the 19th century, and it is pretty cool to see!
Champs-Élysées
This street is big and there you will find many expensive and luxury shops. It's very nice to follow this street from Place de la Concorde towards l'Arc de Triomphe at the end of it.
L'Arc de Triomphe
This is one of the most famous monuments in Paris, with the

 

Tomb of the Unknown Soldier

 from World War I beneath its vault. Here you get to see the eternal flame which burns in memory of the dead who were never identified (now in both world wars), and it is quite touching. 

You can pay to go up on the top of the arch as well, and the view from up there is quite spectacular!
Montmartre
This is one of my favorite places in Paris; a beautiful district located on a hill. It's very nice to just take a stroll around the streets here.
Sacre Coeur
A must-see in Montmartre! It's free to enter, and the hill where Sacre Coeur is located offers an amazing view over Paris!
Moulin Rouge
This is also located in Montmartre. Maybe you wouldn't enter Moulin Rouge (however they do offer dinner shows), but it's very cool to just see this place just up front.
A boat ride on Seine
If the weather allows it, this would be a very nice thing to do; seeing Paris from Seine. There are many different boat rides to choose from, for example one is departing from the Eiffel Tower and one is departing from Notre Dame.
Les Invalides
This is where Napoleon was buried. I've never entered this place, but it's still an amazing building to see.
Museums
Of course Paris offers many nice museums, other than the Louvre!
Les Halles
Le Forum des Halles is a great place for shopping; underground shopping!
The Catacombs
I've never been here myself, but I've heard that it's very cool. (Be prepared for much queuing though!)
Père Lachaise Cemetery
This is the largest cemetery in Paris, and many famous people are buried here, such as Edith Piaf, Oscar Wilde and Jim Morrison.
To get from Charles de Gaulle Airport to Paris: The easiest way is to take the city train (RER B). You can buy tickets at the airport (they also offer roundtrip tickets!), and there you can also buy métro passes for your whole stay (you can also buy a Paris Visite Pass with the ride to the airports (Charles de Gaulle or Orly Airport!) included). I would recommend that you take the train from Charles de Gaulle to the station Gare du Nord, because that's a big station and from there it would be easy to get to the station which is closest to your hotel.
I recommend that you buy a ParisVisite Pass for getting around here, instead of buying single tickets all the time. The métro is easy to use and it's faster to use sometimes than just walking around everywhere, you would save time!
If you like crêpes you should stop by any street food place where they sell crêpes, they're delicious! Crêpe au Nutella is my absolute favorite, and it's quite addictive if you like chocolate!
When I've been to Paris, two times I've stayed in Montmartre, because it's a beautiful district. However, as long as you're staying not too far from a métro station it's very easy to get around in Paris!
So there you go! If you ever plan to visit the marvelous city that is Paris, I hope that you'll find this list of tips and advices useful and I hope you'll enjoy your stay!
Here are some of my pictures from my trip to Paris in October 2013: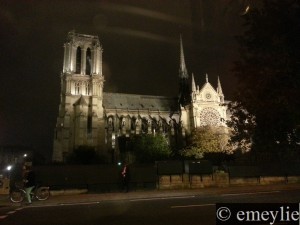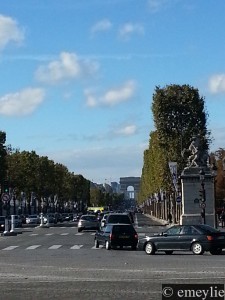 Champs-Élysées, leading up to l'Arc de Triopmhe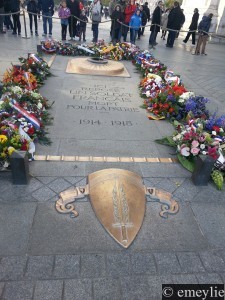 The Tomb of the Unknown Soldier, with the eternal flame burning