Hi!
As you may have seen, I have put up a list of things to do and see in Paris here, and now I thought I would share a similar list with you but for London; a city which I visited for the first time in 2012 and and I fell completely in love with it! So since I did and saw much during my stay there, I thought that it would be interesting for others if I shared some of my tips and advices, so here you go! :
Piccadilly Circus
A famous public space.
Trafalgar Square
Another famous and beautiful public space.
Buckingham Palace
We took the underground to Piccadilly Circus, walked towards Trafalgar Square, and then walked towards Buckingham Palace. From there we then walked towards Big Ben and saw Big Ben, London Eye and Westminster Abbey.
Big Ben
The famous clock which most people has heard about. It wasn't as big as I thought it would be, but it was still cool to see it with my own eyes. Especially since Big Ben is featured in many movies and tv shows that take place in London.
London Eye
We didn't take the time for the Ferris wheel ride, which I regret because I've heard that it's very cool and something one should do!
Westminster Abbey


A large, mainly 

Gothic, beautiful

 church.

 Mostly this church is famous because it 

has been the traditional place of 

coronation

 and burial site for 

English

 and 

British

 monarchs. 



Tower of London
This is a historic castle which is also called Her Majesty´s Royal Palace and Fortress, and this is where the crown jewels are kept. We took the underground to the Tower of London and then walked from there to Tower Bridge.
Tower Bridge
This bridge is very famous and can also be seen in many movies and tv shows that take place in London. It crosses the River Thames, and was so cool and beautiful to see!
Hyde Park
Such a big and beautiful park! It felt nice just to take a stroll through the park, which we did after a long day of shopping.
Covent Garden
A nice market with a bunch of different things. Here you can find clothes, art, jewelry, china etc.
Museums
We did not have time to visit any museums, but there are some great ones in London, such as the British Museum.
Street markets:
o   Camden market – Open 7 days a week from 10:00am to 6:00pm.
o   Portobello road – The fashion market is open 09:00 – 19:00 on Friday and Saturday.
Primark
I didn't have the chance to go here, but I've heard that there's great shopping for very good prices here!
Musicals at West End
A must-do if you like musicals, music or theatre! (Or all of the above!) I recommend that you go to Piccadilly Circus and walk around there to buy tickets for the musicals, and don't settle for the first place you find because the prices vary from booth to booth! Or you can buy the tickets at the theatre where you can find tickets for good prices as well!
Kings Cross Station
A big and very famous train station, and if you like the Harry Potter movies you should definitely go and check out Platform 9 ¾!
Warner Bros. Studio Tour London
Another great place to visit if you like the Harry Potter movies! This is the studio where the movies were made, so you get to go behind-the-scenes and see many things from the movie, and it's very cool! The easiest way to get here, I would say, is to get to the station Watford Junction (we took the train there from the station London Euston, it took about half an hour!). Then from Watford Junction there are shuttle buses that go to the studio, and those take about 15-20 minutes. Be there in time! (Also, we bought our tickets for the studio tour online, very easy and something that I would recommend!)
Madame Tussauds
We did not have time to visit this, but I've heard that it's very cool!
London Dungeon
Same with this!
To get from Gatwick Airport to London: The easiest way is to take the train – the Gatwick Express, which runs to Victoria station every 15 minutes, and the train ride is about 30 minutes. You can buy tickets at the airport (they also offer roundtrip tickets).
To get from Heathrow Airport to London: The fastest way is to take the Heathrow Express; a train ride of about 15 minutes to London Paddington, and it departures every 15 minutes.
You could buy a Visitor Oyster Card for getting around in London (it works on all of the public transport services). That's better than buying single tickets all the time! There's also Travelcards one can buy for getting around in London. Just go to any station and see what card would suit you the best, but I do recommend that you get a card to get around, it's cheaper and easier than buying single tickets all the time.
When I was in London I stayed at a hotel near Kings Cross, which made it very easy to get around since it's a big station. However, as long as you live not too far from an underground station it's very easy to get around in London!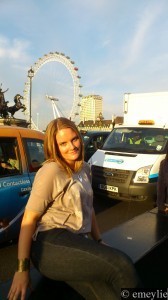 In the background you see London Eye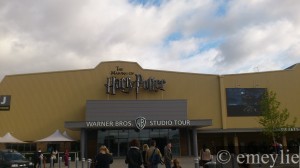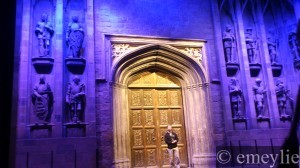 The Warner Bros. Studio Tour London