Hello!
Earlier, I have posted a list on things to do and see in both Paris and London. Now I'm gonna share one for Rome! I went to Rome in June 2014 with two friends and it was such an amazing city! These three cities are definitely three of my favorite cities in Europe! Rome is beautiful, antique and historic, London is cool, modern and awesome, and Paris is a mix of both. Lovely places! We were in Rome for 4 nights and had time to do and see a lot during our stay there, and as with my posts for Paris and London I've decided to share some of my tips and advices for Rome:
Colosseum + Palatine Hill + Roman Forum
Buy a ticket for all three combined. I recommend that you buy a ticket at Palatine Hill/Roman Forum, there are usually less people there than at the Colosseum.
Fontana di Trevi
The beautiful famous fountain. Unfortunately it was being repaired when we were there, but this is definitely a place you should visit when you're in Rome. And don't forget to toss in a coin and make a wish, it's tradition!
Pantheon
Such a cool and magnificent place, a former Roman temple.
The Spanish Steps/Scalinata di Trinità dei Monti – Piazza di Spagna
Walk up the steps, then walk left towards Villa Medici and afterwards descend towards Piazza del Popolo. There's also some nice stores for shopping in that area.
Castel Sant'Angelo
We didn't have the time to go into this place but it's very amazing, and if you have the chance you should definitely go in there!
The Vatican
I recommend that you buy the tickets online in advance, takes much less time! And plan to spend several hours here, there's so much to see, so go there in the morning.
Peter's Basilica/Basilica di San Pietro in Vaticano
When you visit the Vatican, make sure you go by Peter's Basilica also, it's right next to the Vatican.
Piazza Navona
A gorgeous square that is very nice to take a stroll through, and do some window shopping!
The catacombs – San Calistos
We never had time to visit them, but I've heard recommendations about visiting this!
The Galleria Borghese
An art gallery. We never had time to visit this, but I would have liked to if we would have had more time.
To get from Fiumicino/Leonardo da Vinci Airport to Rome: We took the Leonardo Express Train, because we felt that was the easiest. It is a non-stop trip between the airport and Rome Termini (the main station), and our hotel was very close to that station. The train runs every half hour during the day and evening and the trip takes about 30 minutes. We bought out ticket at the airport when we arrived, and be sure to get your ticket stamped before getting on the train!
For transportation, it is very easy to get around with the metro and the bus. I recommend that you buy a 3-days tourist integrated ticket; "Biglietto per 3 giorni B.T.I.". The price is 16,50€ and it is valid for 3 consequent days on any public means. It has to be stamped just once when staring the travel and exhibited to the controller at the entrance of the metro line.
If you are there for a longer time there is also the "Biglietto settimanale C.I.S."; a tourist one-week integrated ticket. The price is 24€ and it is valid for 7 consequent days and has the same terms of use like the B.T.I., only the owner must write on the card his/her own name.
On our first evening, we walked down Via Nazionale and then turned right onto Via XXIV Maggio. Just a little up that street was a very nice restaurant; Ristorante Petrucci (situated under Hotel Hiberia) and it was cozy with great food. After dinner, we continued up Via XXIV Maggio towards Piazza del Quirinale. From there you can easily walk towards Fontana di Trevi. Then from Fontana di Trevi, we followed Via del Tritone towards Fontana del Tritone, another beautiful fountain.
Another restaurant I can recommend is called Ristorante Terme di Diocleziano situated on Via del Viminale. They have a very cozy terrace on the roof. Very nice restaurant with good food and great service.
After we visited the Vatican and the St. Peter's Basilica, we walked towards Castel Sant'Angelo and then crossed the bridge Ponte Sant'Angelo to get to the other side of Tiber/Tevere (the river). After that you're not too far from Piazza Navona and then Pantheon.
If you walk down Via del Corso from Piazza del Popolo, there are a lot of stores for shopping, so this is a street great for shopping! Also, on Via del Babuino, the street next to it, you'll find more good stores for shopping.
Also, when in Rome, make sure you eat lots and lots of gelato! It's so delicious! We also made sure to try lots of incredible Italian food: lasagna, pasta, pizza, bruschetta, mozzarella, prosciutto… So much delicious food, with amazing Italian wine, enjoy it!
I hope this list can be of use to you! Enjoy your stay in Rome!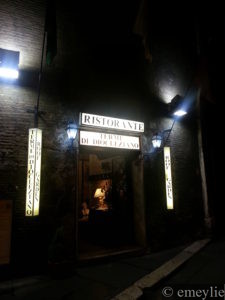 Ristorante Terme di Diocleziano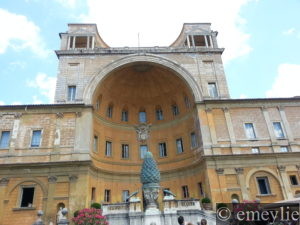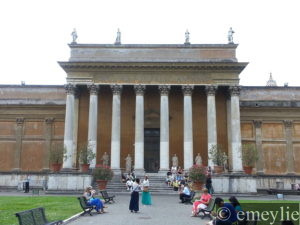 Visit to the Vatican!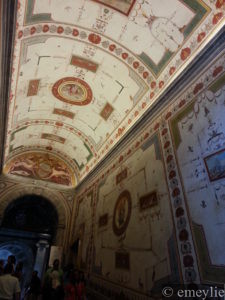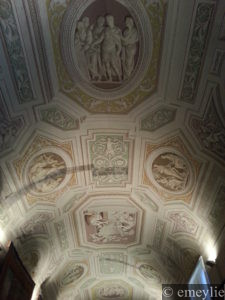 Lots of beautiful art to see here, especially in the ceilings!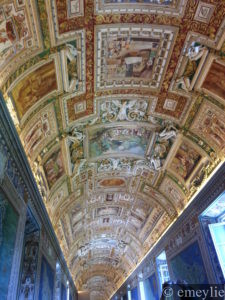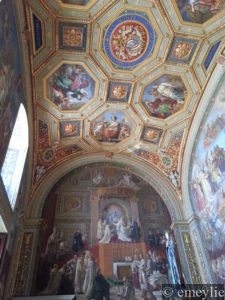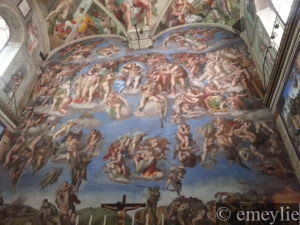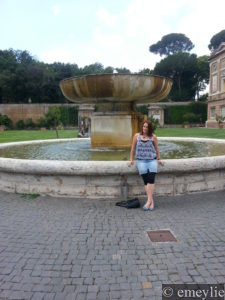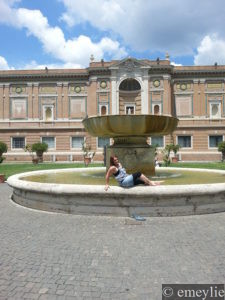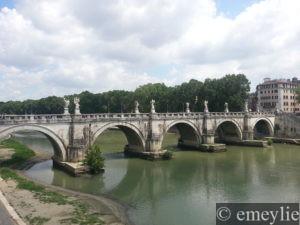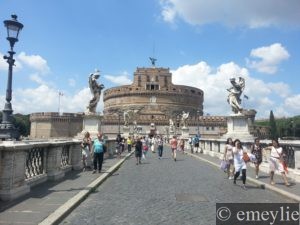 Castel Saint'Angelo & Ponte Saint'Angelo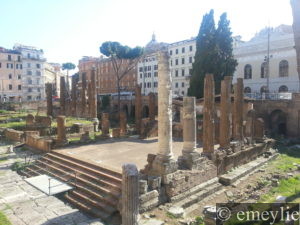 Lots of beautiful old sites to see in Rome